Student Registration & Attendance Information
Please click on the correct link below to begin your online registration process or please call 502-484-4027 or 502-484-4009 to use a registration kiosk.
Online Registration Video for Parents
The online registration process will walk you through a series of steps to enter or confirm information about your student(s), parents or guardians, and emergency contacts. Before you begin, please gather the following:
Household information -- address and phone numbers

Parent information -- work and cell phone numbers, email addresses

Student information -- demographic and health/medication information

Emergency Contact - addresses and phone numbers.

Number of the bus your student will be riding. Call 502-484-5175 if unsure of the bus number.

Proof of residency, such as a piece of mail with physical address, utility bill, etc, will be required for all new students enrolling in Owen County Schools.
New Families to the District
Welcome to Owen County Schools!
Please call 502-484-4027 or 502-484-4009 for any questions or problems with registering your child. Proof of residency is required for all new students enrolling in Owen County Schools.
Existing Families/Annual Update
If you need your portal account information, please email:
Dear Parent/Guardian
All students receive a breakfast/lunch at no charge for the entire school year. However, to determine eligibility to receive additional educational benefits for the students of Owen County Schools every household will need to complete an Educational Benefits and Household Income Form. Please complete one form per household.
No Pass/No Drive - KRS 159.051 applies to every public and private school district across Kentucky and results in the denial or revocation of a student driver's license for any of the following:
academic deficiency which is defined as a student who does not have passing grades in at least four of six courses or the equivalent in the preceding semester

nine or more unexcused absences in one semester
More information about the No Pass No Drive can be found at KDE Frequently Asked Questions.
Truancy
KRS 159.150.
DEFINITION OF TRUANCY
Any child who has been absent from school without valid excuse for three (3) or more days, or tardy without valid excuse on three (3) or more days, is a truant. Any child who has been reported as a truant three (3) or more times is a habitual truant. Being absent for less than half of a school day shall be regarded as being tardy. A local board of education may adopt reasonable policies that require students to comply with compulsory attendance laws, that require truants and habitual truants to make up unexcused absences, and that impose sanctions for noncompliance.
Chronic absenteeism keeps students from succeeding and often causes even bright, capable students to drop out of school. This process starts early in a student's educational career and builds momentum. Students start to fall behind, feel defeated, and finally just stop going to school.
The Key Is Not To
Let This Process Start!
Parents/Guardians must express high expectations relating to school success and attendance. It is important to foster positive attitudes about the importance of school. Good attendance must be enforced and reinforced.
First Signs of a Problem with Attendance:
Excessive absences, excused and/or unexcused

Resisting going to school, making excuses to stay home

Poor grades/academic performance

Being disruptive in school

Associating with students who get into trouble

Becoming increasingly defiant or disrespectful

Cutting classes/skipping school

Failing classes

Expressing negative attitudes about school attendance
Infinite Campus Parent Portal Information
LOG INTO CAMPUS PARENT TODAY!
PARENTS/GUARDIANS CAN ACCESS STUDENT GRADES
REVIEW ATTENDANCE AND ABSENCES
SEE ASSIGNMENTS THAT ARE DUE OR UPCOMING EXAMS
PARENTS/GUARDIANS WILL NEED A PARENT PORTAL ACCOUNT FOR THEIR STUDENTS ONLINE REGISTRATION ANNUAL UPDATE. IF YOU NEED YOUR USERNAME OR PASSWORD, PLEASE EMAIL Email Rhonda Denny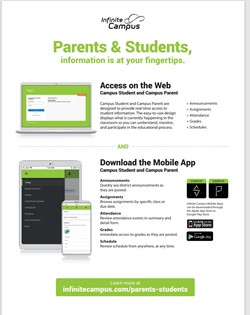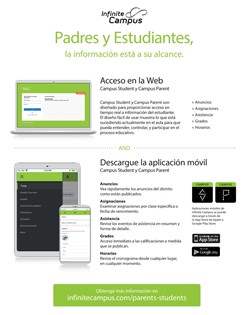 Kindergarten Registration Information
Please note that students must turn five (5) on or before August 1st for admission to Kindergarten.
What documentation do I need to provide when registering my child for Kindergarten?
* Social Security Number ( This is optional but will be needed for KEES money)
* A legal birth certificate or other reliable proof* of age and identification
* A current Kentucky Certificate of Immunization
* A preventative health care examination (School Physical Form)
* An eye examination between ages 3-6 by an optometrist or ophthalmologist, documented on the Kentucky School Eye Exam Form
* A dental screening or examination by a dentist, dental hygienist, physician, registered nurse, advanced registered nurse practitioner or physician assistant, documented on the Kentucky Dental Screening Form